Posted on
May 14th, 2014
by Caroline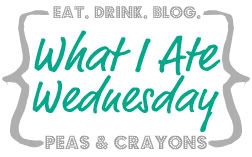 Good evening, friends! My internship is starting slow down (just 35 days left until graduation!), so I thought I would get back into the food blogging groove by posting a simple day of eats for
What I Ate Wednesday
. I had the day off today, so it was a little easier to capture all my meals and snack than it normally would!
This morning, I decided to skip my run and do an elliptical session instead, with some weight training tacked on to the end. Afterward, I re-fueled with some hard-boiled egg whites (I'm on a HB egg kick these days), fresh strawberries, and avocado toast.
Before leaving for class, I had a snack-y lunch, which consisted of carrots + hummus, string cheese, and almonds + chocolate chips.
I was having major salty cravings this afternoon, so I made a big bowl of air-popped popcorn (with a few peanuts added in) to hold me over until dinner.
Once Seth was home, I served up some salmon burgers (not homemade—bought from Publix) and some oven fries (which were homemade). I skipped the bun in favor of some steamed veggies on the side.
That brings us to the present. I'm planning on having some Greek yogurt + fruit before I hop into bed–I have to be up at 5AM tomorrow morning. Blah.
As you can see, my eating style is much simpler these days. For the time being, food is fuel instead of an art form. Starting next week, I'll have a much more predictable schedule, making it much more likely that I'll find time (and inspiration) to blog. If you have any specific requests for the types of posts you'd like to see, please let me know in the comments!
Filed under: Meals